Catholic Campus Ministry at University of Arkansas is alive and thriving.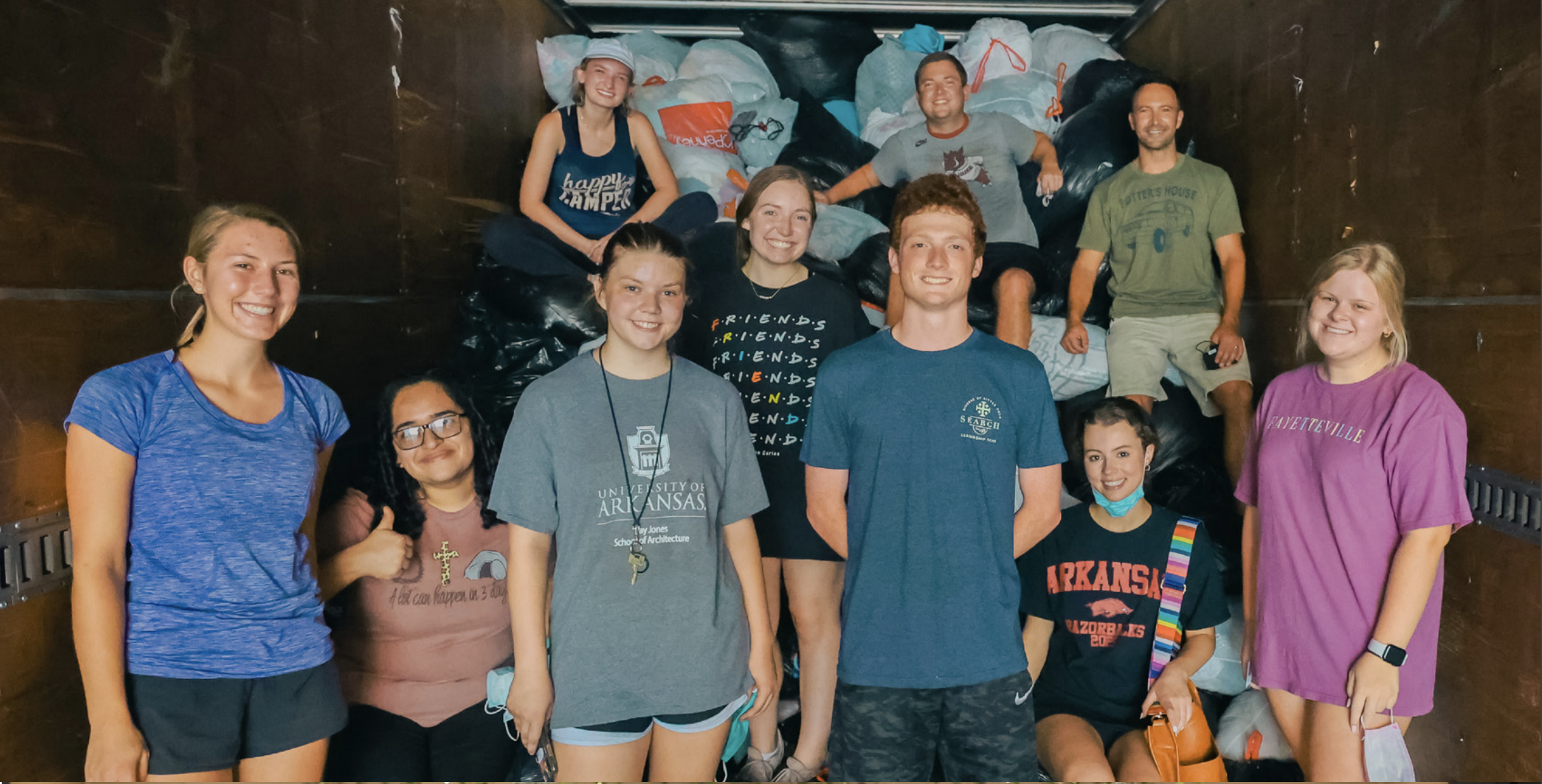 Despite the national trend of declining religiosity in America, student involvement at St. Thomas is increasing. 
In fact, student participation at Mass is overflowing! Our Bible studies are thriving, our retreats are flourishing, and all of our programmatic effort to reach students where they are have been a success!
Our approach is simple. We invite students to know God, form them in the rich traditions of the Roman Catholic faith and send them forth to love and serve others in their families, jobs and communities.
"…These people have inspired me, pushed me, and supported me. St. Thomas is a constant reminder of the love God has for me. I always leave St. Thomas feeling better than I did when I arrived."
"St. Thomas is always a place where I feel welcome and know that I belong."
"St. Thomas brings a sense of intentionality, it's authentic, it doesn't try too hard, it delivers, the Lord is truly present here."
"My experiences with the community at St. Thomas help give the confidence and support I need to in turn serve students all across our campus every day."
Fellowship
More than 75 students regularly join us for Sunday dinner. Even deeper friendships are formed during monthly social events, 10 service days a year, and mission trips to places like the Dominican Republic. Over 200 students communicate regularly in St. Thomas's "Group Me" and stay connected to their Catholic community on campus.
Worship
Students are active participants in daily and weekly Mass. Ministry growth has also led to increased demand for Reconciliation and adoration, now offered multiple times each week. Every weekend, more than 500 students come to worship in the sacrifice of the Holy Mass.
Formation + Evangelization
Wednesday evenings offer students an opportunity to delve into hot topics and learn more about their faith through programming like "The 603" nights, evenings of praise and worship, and social events. Additionally, new programs like Theology on Tap and a new Freshman ministry have been developed due to student demand for apologetics and theology. Formation also happens at RCIA, where more than 25 young people have become Catholic in the last three years!
In 2021, 6 Bible studies- men's, women's, co-ed, and freshmen- were led by dynamic student leaders. Our Setons women's Bible study group has grown to over 30 members and continues to offer young women at St. Thomas a place for fellowship and support, and more than 15 young men are members of our Knights of Columbus council.
Our engagement with other dynamic Catholic campus ministries has increased as 15 students traveled to FOCUS conference in 2019 and 10 to FOCUS SLS in 2020, a trend that will continue to increase yearly. And every year, 3 student-driven retreats take place, an experience engineered to challenge students to deepen their relationship with Christ as well as grow in fellowship and service with their fellow Catholic disciples.
Vocations
One of the greatest impacts of strong Catholic ministry is the formation of leaders for the Church and society. St. Thomas helps students discern how God is calling them to develop and use their gifts. We are proud of the young men (at least 10, and counting!) who have gone on to become priests after their college career and time at St. Thomas, including our very own, Fr. Jason! Father Jason currently has a discernment group of 3-5 young men who meet monthly and on an individual basis throughout the school year.
In addition to priestly vocations, St. Thomas has facilitated many young couples to discern the married life creating solid, Catholic marriages that enliven all the parishes these couples move into after college. Shaped through participation in Catholic Campus Ministry at St. Thomas, many single young Catholics have answered the call to live their faith and positive witness out in the secular world. Others have gone on to commit to the religious life as a sister or brother.